Eric Broder Van Dyke
Brodogg1313
Honolulu, United States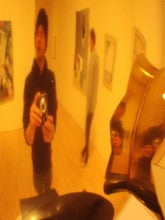 statystyki konta
Plików w portfolio:

4,385

Ogółem sprzedanych:

2,409

Widoczność portfolio:

0.69%

Procent w bazie DT:

0.07%

Pobrań na zdjęcie:

0.55

Postów na forum:

5

Załadowań miesięcznie:

43.85 (średnio)
BIO
Eric BVD 'Brodogg1313' is a Digital Ninja who specializes in photography, environmental and historic preservation, yoga, digital humor and the advancement of the arts. Eric was born and raised on the Island of Oahu, Hawaii. Graduated from UNLV with a BFA in Digital Media, became a certified yoga instructor through Larry Schultz It's Yoga rocket system, and received his Certificate in Multimedia from SFSU. The art Eric BVD makes is to help understand the human comedy that the peop ... więcej
Eric BVD 'Brodogg1313' is a Digital Ninja who specializes in photography, environmental and historic preservation, yoga, digital humor and the advancement of the arts. Eric was born and raised on the Island of Oahu, Hawaii. Graduated from UNLV with a BFA in Digital Media, became a certified yoga instructor through Larry Schultz It's Yoga rocket system, and received his Certificate in Multimedia from SFSU.

The art Eric BVD makes is to help understand the human comedy that the people of the earth all partake in. The Art he creates are visual displays of monuments to moments. He display to the viewer, brief moments in time ,space, and spirit in an attempt to describe the mood and setting of that instant. The work is a visual discussion of the life of people struggling to exist. I work to documenting and presenting how humans eat, sleep, and live in their time. The visions, and ideas of my art, as represented through the final piece, aspire to convey a message of understanding, and greater appreciation for the time of my existence.
ukryj
Strona internetowa:
http://www.brodervandykestudio.com
Obserwuj mnie:
Na Dreamstime od:
November 5, 2009
Sprzęt:
Currently Olympus E-620, Zuiko Digital 9-18mm, 35mm F3.5 Macro, 14-42mm F3.5-5.6, 40-150mm F4.0-5.6, 75-300 f4.0-5.6, Stylus 7030, Sony DSC HX5, WX-9, Photoshop CS5, Windows Live Photo, Picasa 3, Formerly Olympus Tough 8000, 1030, Stylus 7010, 9000, 1050SW, 1040, 800, 790SW, 770SW, 550WP, 400, Tough 6020, C-8080 Wide Zoom, E-500, Canon A480, A490, Sony Cybershot W220, 350. Broder Van Dyke Stydio is Green photography operation using modes of travel for photography including Longboard Skateboard, Mountain, folding and Comfort Bikes, Zipcar, Public Transit Systems and Commercial Aviation.
Ulubiona tematyka:
Animals, Food, interesting people, Sports, trans-formative architecture, textured patterns, and, of course, sunsets.
Stock rank: