Marie Dolphin
Mariedolphin
Redondo Beach, United States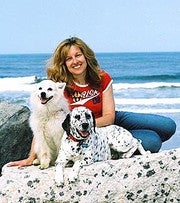 statystyki konta
Plików w portfolio:

97

Ogółem sprzedanych:

71

Widoczność portfolio:

0.02%

Procent w bazie DT:

0%

Pobrań na zdjęcie:

0.73

Postów na forum:

0

Załadowań miesięcznie:

2.49 (średnio)
BIO
I grew up in Ohio as an only child. I found it very easy to entertain myself. I loved arts and crafts. My Dad was always taking photos so I guess I inherited that love. My passion was in creating a series of wall calendars featuring homeless pets, called Pound Pets. I also created a greeting card line. I am working on creating a whole new line. I want to show what wonderful animals can be found at animal shelters. I self published the first line, something I will never do again. I love to ... więcej
I grew up in Ohio as an only child. I found it very easy to entertain myself. I loved arts and crafts. My Dad was always taking photos so I guess I inherited that love. My passion was in creating a series of wall calendars featuring homeless pets, called Pound Pets. I also created a greeting card line. I am working on creating a whole new line. I want to show what wonderful animals can be found at animal shelters. I self published the first line, something I will never do again. I love to explore old towns and shoot whatever strikes me. I like shooting details rather than large wide shots. I also love to collect and sell old vintage photography and hope to create some vintage style shots of my own at some time. I live in southern California where the shooting subjects are endless and the light is beautiful.
ukryj
Strona internetowa:
http://www.mariedolphin.com
Na Dreamstime od:
December 3, 2014
Sprzęt:
I started my photography career back in the 80s with a minolta SRT 101 (my Dad gave it to me). I then bought a used Hasselblad with a motor wind that I loved very much ...I am now using a canon 5d. I love natural light and do not care much for doing "studio" work although I have done some fun things and plan on doing more!
Ulubiona tematyka:
My favorite subject is animals. I started out creating a pet calendar that I called Pound Pets to showcase all of the wonderful animals that needed a home. I love old barns and rusty rickety stuff. I love old motel signs and just signs in general. I love colorful abstract type photos. I also have plans to shoot some antiques and collectibles in creative ways. So much to do so little time!